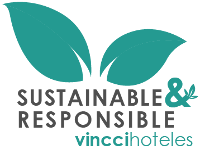 Acting sustainably and responsibly allows us to deliver better experiences and help build the future we all want. We are experts in looking after our environment.

A SUSTAINABLE AND RESPONSIBLE COMPANY
Our premise, continuous improvement. Our goal, resource optimization.
Our challenge, protecting the environment. Our commitment, society.
If you want to know more about the Vincci Hotels sustainability plan
download our report.
We are committed to mobility which has low impact on the
environment and local culture.
We promote activities aimed at satisfying
the needs of our community.

GREEN NEWS

OUR PARTNERS